'Lucky Sweep'
The tradition of a chimney sweep bringing the bride and groom luck on their wedding day is one that goes back many years. Legend has it that around 200 years ago a chimney sweep bravely stepped out and stopped the King's horse and coach as it bolted. King George II was so grateful to the sweep for saving his life that he announced by Royal Decree that all sweeps were lucky! Today, seeing a chimney sweep on your wedding day is still a lucky omen and many couples choose to have them attend their wedding for a handshake for the groom and a lucky kiss for the bride. ********************************************************************* Therefore, I will attend the special day in traditional Victorian dress along with rods, brush and an old push bike.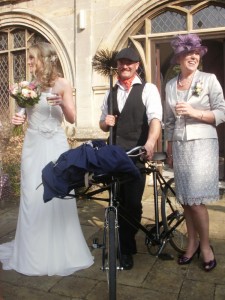 A gift will be given to the bride & groom for good luck in their marriage together. I can simply greet you as you leave the church or be included in photos at the church or reception. Any questions or inquires contact myself Craig Groves on 07803 127 437 or 01476 385 285, or email meadowchimneysweep@hotmail.co.uk.
Coverage
Grantham
Stamford
Bourne
Melton Mowbray
Oakham
Uppingham
Newark
Market Deeping
Sleaford
…and surrounding villages.
View coverage